Spiced Maple Glaze Donut Holes (Raw Vegan + GF)
It's been a while since I've last posted and I'm really excited to be back sharing with you these raw vegan donut holes. I know you're just gonna love them! Other than being raw, of course, they're gluten-free, grain-free and refined sugar free and not to mention absolutely dee-lish! So, hopefully they'll help you forgive me for my long absence (winky-face)!
While I was traveling so much earlier in the year I brought these babies with me as my to go to snacks and breakfast. They're so easy to pack, they're hearty so they keep you feeling energized and satisfied and I mean who doesn't love donut holes?? They're basically a guilt-free dessert so it's a win-win situation!
One huge key to SUCCESS on the raw food diet is meal prepping in advance. I love snacks like these because you can easily make them in advance and have them on hand in the fridge for up to a week. Another thing I like to do is make and abundance at once and then freeze them so I always have something on hand.
Since I'm not one who loves to cook, the raw food diet is right up my alley. For most basic recipes like this, all you need is a food processor to blend them up, scoop them out and into the freezer or fridge they go.  There's no dirty pans to scrape or big mess to clean up afterwards!
Actually let me clarify, I'm a FOODIE so I enjoy cooking a lot and I enjoy EATING a lot but what I DON'T enjoy is the clean up process of cooked foods. That's why raw foods work so well for me personally cause I feel like it's much less mess to follow after, especially those dirty greasy pans that you have to scrape down afterwards. Do you know what I mean?
The raw food diet is all about SIMPLICITY. On an average day  I keep my meals super simple with smoothies, salads and snacks like these donut holes. I stick to the basics to keep me fueled to get through my long days that require a lot of energy. Then on the weekend I like to pull out my chefs hat and get more fancy enjoying tasty recipes that require more preparation to make.
If your're a fibromyalgia warrior and don't have much energy, especially if you're just starting out keep it SIMPLE. When I first started out on this lifestyle and was still suffering from fibro flare-ups I lived off smoothies, fresh fruit and salads just to get these medicine-like nutrients into my body to get me healing. As I gained more energy I started to diversify based on my energy levels.
If you're a FIBRO-FIGHTER, first I want to say I'm so happy you're here! You're in the right place. Second I'd love to know what challenges you're facing in transitioning to the raw food lifestyle or the idea of it, let me know in the comments below! And if you're not a fibro-fighter I'm happy you're here too and would love to hear from you just as much!
These spiced donut holes are also KID-FRIENDLY. While I was visiting my nephew who's five years old we spent a lot of time in the kitchen together making healthy fun recipes that he taste-tested and approved for me and these were one of them! Those are some precious moments spent together and kids at that age soak up like a sponge the information we give them. So it's so important to educate them on how important the food they put into their bodies.
He loves his veggie juice and knows all the ingredients to make different yummy juice recipes and when he's not feeling well he even asks for a glass cause he knows that's what his body needs. How precious is that? Ugh I love that kid! Point being it's never too early to start teaching kids HEALTHY habits!
These donut holes are also quite versatile so you can use any spice of choice or leave them out altogether. They make for a great breakfast on the go, a midday snack or if you're having a sweet tooth and want something to satisfy it. They were inspired by the talented Emily from This Rawsome Life she has the most amazing recipes!
I'm excited for you to try them and hope you love them as much as we did! Let us know in the COMMENTS below if you want to make them!
Recipe:
Makes 16 Donut Holes
1 cup cashews, soaked 6+ hours then drained and rinsed
1 cup buckwheat flour*
11 medjool dates, pitted
1 teaspoon cinnamon
1/4 teaspoon cloves
1/2 heaping teaspoon nutmeg
GLAZE
2 Tablespoons maple syrup
2 Tablespoons coconut oil
TO MAKE THE DONUT: 1)Process all ingredients in a food processor until a sticky "dough" forms 2) Scoop out the mix into a bowl 3)Using a tablespoon (or melon scooper)  balls scoop out the "dough" and roll into balls and put in the freezer until cold and firm (20-30 minutes).
TO MAKE THE GLAZE: Add the coconut oil and maple syrup to a small bowl and whisk together until it forms a caramel like consistency. Dip the donut holes (once taken out of the freezer) into the glaze making sure to cover completely in the syrup and put them back into the freezer until the glaze has hardened. Repeat until all the glaze is used up. It may be 2 or 3 times each time make sure to re-whisk the glaze mixing it together well.
*To make the buckwheat flour I used buckwheat groats and ground them in a coffee bean grinder. I like the texture much better than the store bought buckwheat flour. You can replace buckwheat flour with oat flour if desired.
NOTE: Add more spice as desired.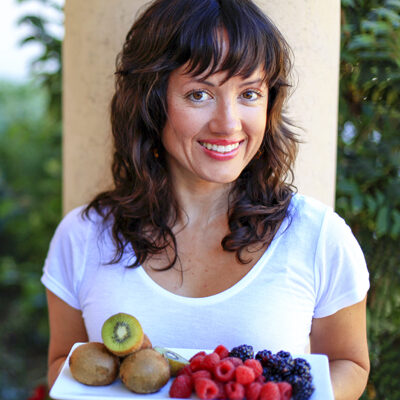 Hi, I'm Christine, thanks for stopping by! As a fibromyalgia thriver (symptom-free for over 10 years now thanks to diet and lifestyle changes), it is my passion to share the healing power of food.
As an RN and Holistic Nutrition Practitioner, it is my desire to empower you to take charge of your life.
Let's journey together to glowing health. Learn More
Your Health Transformation
Starts Here!
Sign up to get FREE healthy lifestyle tips and recipes!