Road Trip to Provence France
Last July we took a road trip from La Spezia (Italy) to Provence (France). It had always been a bucket list trip to see the lavander fields of Provence especially those of the Senanque Abbey. It was a last minute trip in the middle of an excrutiating heat wave that had most of Europe burning up with intense heat. But, it turned out to be one of the best trips of my life. i have such fond memories of this Provence it really has a special place in my heart.
What I've found is that the things that come together on a whim tend to leave you with the best memories. There's something about the spontaneity that creates an excitement leaving behind any expectations. There's just the thrill of picking up, going and being happy with whatever comes of it.
On this trip I decided to leave social media at home to enjoy being in the present moment of the trip. So my photos aren't the best quality because I wasn't taking them thinking I'd be sharing them publicly.  But then  lockdown happened and I had extra time on my hands which lead to nostalgia of being with my family, which led to reminiscing of this trip to Provence with my mom and the most blissful memories so I decided to share it.
In this post I'll be sharing the drive up, where we stopped, where we stayed and the area surrounding it. Just a little travel tip for Provence at least in the countryside areas where we were i would definitely plan in advance to bring vegan snacks for the road for two reasons…
ONE, I found very little if any vegan options when eating out and if there were they were very small portions and quite expensive. TWO more importantly, once again I can only speak for the areas where we were, but almost NOBODY spoke English, and they didn't seem interested in helping us out. The menus weren't translated in English despite the area being filled with tourists and they seemed almost bothered by the fact we didn't speak French so it left me leary that my vegan requests would be understood let alone met. I preferred to play it safe and shop at the local grocery store and cook my meals, which turned out great and made for lovely poolside dinners on those gorgeous summer evenings.
CANNES, FRANCE
We had four full days including the driving where we stopped in Cannes on the way just to break it up a little bit. I definitely recommend it. It's a beautiful French city on the Riviera with lots of shops and restaurants, it's absolutely stunning and it's a fun place to people watch not to mention home of the Cannes Film Festival. It's a nice way to break up the drive stroll along the beach and have a gelato.
In Provence we stayed in the town of Gargas. I have to say it was an ideal location for everything we wanted to see. It was centrally located to all the great spots for lavander and all the villages and sights we wanted to see. In less than an hour you could be in any given spot. Below is a photo of our rustic farm house we stayed in. It had all the true, authentic French country house feels. It was nestled in the cutest, most rustic neighborhood. We found a farm house on AirBnB and got an amazing deal, it's called Maison de Charme.  It was spacious with several rooms, decorated like you'd imagine a french style country house would be, super clean and the hosts were wonderful. It even had a swimming pool! It was close to grocery stores as well as local restaurants, it really was ideal in all senses.
Maison de Charme
The following photos are from the surrounding area with in walking distance of the farm house. The whole area was so quaint, rustic and picturesque. It was peaceful and the perfect place to feel like you're away from it all.
I'm obsessed with this French blue that was characteristic to this area.
Staying in Gargas allowed us to do day trips to:
Menerbes
Sault
Have you been to Provence? Where did you go and how did you enjoy it? Let me know in the comments below I'd love to hear!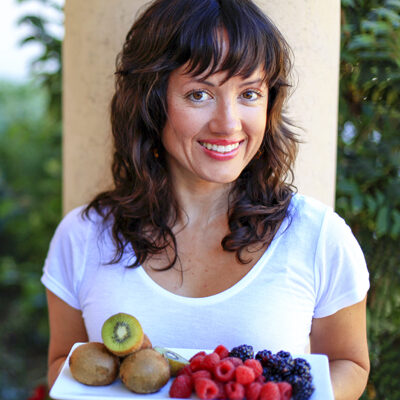 Hi, I'm Christine, thanks for stopping by! As a fibromyalgia thriver (symptom-free for over 10 years now thanks to diet and lifestyle changes), it is my passion to share the healing power of food.
As an RN and Holistic Nutrition Practitioner, it is my desire to empower you to take charge of your life.
Let's journey together to glowing health. Learn More
Your Health Transformation
Starts Here!
Sign up to get FREE healthy lifestyle tips and recipes!