Cherry Walnut Stuffed Endive
This cherry walnut stuffed endive recipe is super easy to whip up and can be used as a snack, an appetizer or a side dish to any meal.  When I first made it I was in a snacking kind of mood, I wanted some sweetness, with a bit of savory, zesty flavors and this is what my taste-buds led me to create.  It hit the spot perfectly! When I took my first bite of this it was like a party in my mouth, it just made me sing it was good! 🙂 It makes for a lovely dish that will surely be a hit wherever you serve this!  It is perfect to bring to potlucks or when invited out because it is something everyone will enjoy. Plus, when you bring a dish to a party or social event you are sure to have something that you know you can eat, which is always important.
The mix of the sweet dried-cherries and the splash of lime creates such a delectable sweet and sour contrast.  With the addition of such fresh aromatic herbs like rosemary and thyme your mouth will burst with flavor!  I love endive for this because it is crisp and refreshing and has a slight bitter taste to it that contrasts well with the sweetness of the cherries.  Not to mention it's the perfect bit size leaf to serve the cherry walnut pate' in.
This recipe is so versatile too, instead of dried-cherries and walnuts  you could use cranberries and almonds or some other delicious dried fruit or nuts.  The varieties of nut pate's are endless.  You can add this cherry walnut pate' on top of salads too or wrap it in different greens instead of Endive if you prefer.
I just love walnuts and they are so amazingly healthy.  Here are some health benefits of walnuts:
– Among nuts, walnuts are significantly higher in omega-3 fatty acids, which may help in  lowering blood pressure and cholesterol, preventing heart disease and improving memory and overall cognitive function.
– It has a high amount of antioxidants (twice as many as other nuts) thus helping to protect against cancer.
– Walnuts contain melatonin which has been found to improve sleeping patterns.
– Walnuts are rich in fiber, keeping your digestive system healthy and your bowels functioning correctly.
– Walnuts contain selenium, zinc, biotin and essential fatty acids that help to promote healthy, shiny, strong hair.
Recipe:
2 Endive
1 cup raw walnuts ( soaked overnight, drained and rinsed)
1 stalk of celery, chopped in small chunks
1/2 lime, juice of (if you prefer less tart start with 1/4 lime and taste test before adding the rest)
1 tsp fresh Thyme
1 tsp fresh Rosemary
1/2 cup unsulphured dried-cherries, ( I get mine from Farmers' Market, I find they are the freshest and the most tasty).
Pull the leaves off the endive and place on a serving plate.  Pulse the rest of the ingredients in the mini-food processor until it becomes coarse chunky pieces.  Scoop out two tablespoons worth and fill each endive leaf.
This is a fun recipe to have your kids help you, they can pull off the Endive and help scoop on the walnut pate'.  It's so nice when you can involve your kids in preparing healthy meals.  I hope you enjoy this as much as I did!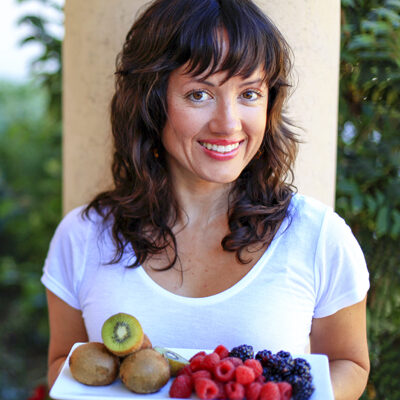 Hi, I'm Christine, thanks for stopping by! As a fibromyalgia thriver (symptom-free for over 10 years now thanks to diet and lifestyle changes), it is my passion to share the healing power of food.
As an RN and Holistic Nutrition Practitioner, it is my desire to empower you to take charge of your life.
Let's journey together to glowing health. Learn More
Your Health Transformation
Starts Here!
Sign up to get FREE healthy lifestyle tips and recipes!