Italian Style Cauliflower Rice Recipe
Cauliflower rice is a great raw alternative to white rice.  It's tasty, healthy and grain-free.  When I was living in Italy they would make a dish there called Riso Freddo, translated literally Cold Rice.  It was basically a rice salad made with different fresh veggies, olives and a lot of other things that I no longer would eat, like Tuna.  That gave me the idea for this recipe.  Now that I found out about cauliflower rice, I use it all the time.  It's so easy to make, it's raw, nutritious and I just love it!
When processed you can see how light and fluffy it looks, resembling white rice.
This dish makes for a light refreshing dinner on warm summer evenings.  This would be one of those salads that would also be great for a potluck.  It's really enjoyable and no one looks at it as being raw, it's so flavorful they are too busy enjoying it.
In the recipe I put down the measurements of the veggies I use, but it really is individual, so feel free to add according to your liking of each.
Serves:
1 as main dish/ 4 as side dish
Recipe:
1 head cauliflower (about 4 cups), trimmed and coarsely chopped
1 green bell pepper, diced
10 large basil leaves, chiffonade
1/2 cup red onion minced
1 cup cherry tomatoes, halved
3/4 cup Sicilian style green olives, pitted and sliced
3/4 cup fresh parsley, chopped
1/2 lemon, juice of
(optional) 3 Tbsp high-quality olive oil
Pulse cauliflower florets in a food processor until finely chopped. Pour into a large bowl adding the rest of the ingredients, mix well.  Scoop  onto a nice plate and garnish with parsley.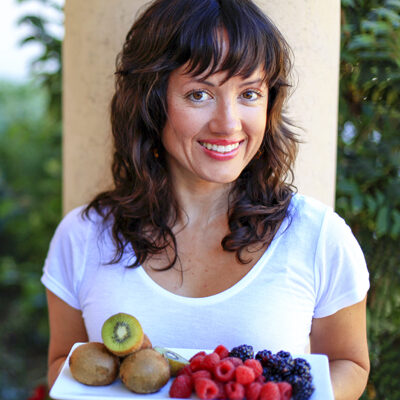 Hi, I'm Christine, thanks for stopping by! As a fibromyalgia thriver (symptom-free for over 10 years now thanks to diet and lifestyle changes), it is my passion to share the healing power of food.
As an RN and Holistic Nutrition Practitioner, it is my desire to empower you to take charge of your life.
Let's journey together to glowing health. Learn More
Your Health Transformation
Starts Here!
Sign up to get FREE healthy lifestyle tips and recipes!