Ginger Spiced Butternut Squash Quinoa
This ginger spiced butternut squash quinoa is a simple, hearty dish that hits the spot on a chilly winter night. It's oil-free, gluten-free and plant-based so it's made with nothing but wholesome goodness. Plus it's full of anti-inflammatory benefits to help reduce pain and inflammation which is so important for us fibro-fighters, right? The more anti-inflammatory foods we can feed our body the better!
I've had my eye on Kyocera ceramic knives for some time now, but I never got around to actually buying them. But, recently I received a gift certificate to Williams-Sonoma and what did I end up finding there? Kyocera ceramic knives! I was so excited. I love using ceramic knives because for one they stay sharper longer,  they don't oxidize your food turning them brown like metal knives and they are so light weight.
I couldn't wait to come home and cut up food! So this was the first recipe I made with my ceramic knives and I loved it, couldn't be happier with them. I'd have to say that the most important basic tool in the kitchen is a good knife, it really makes such a difference and it's a pleasure preparing food now.
I love squash, especially butternut squash it's one of my winter staples. And now that I found it sold pre-cut at Sprouts (my local market), I buy it weekly. Normally I don't like buying pre-cut packaged produce because it tends to lose its freshness and taste quick, but these are cut daily and it saves so much time in preparation.
If you haven't tried Quinoa it's a great substitute for rice or other grains. It's gluten-free and so much easier to digest.  It's a great source of protein and contains all the essential amino acids making it a complete protein. Just FYI fun fact it's actually a seed not a grain.
Pumpkin seeds are a rich source of zinc, which is important for immune support. They also contain magnesium. A lot of fibromyalgia warriors are low in magnesium. A deficiency in magnesium can affect the nerves, the muscles causing stiffness and aches and is even associated with anxiety.
When I make this recipe for dinner I put the leftovers in a container and prep it for the next day to have ready to bring with me for lunch. This way it's all prepared and ready to go for the morning. The key to success for maintaining healthy eating is practicality and simplicity and this is a great recipe to start with for both! I hope you enjoy it!
Servings 3
1 cup  quinoa
2 cups vegetable broth
1/2 onion, diced
1 inch piece of ginger, peeled and chopped
Directions: 1) Bring to boil the broth  2) Add quinoa and the rest of the above ingredients, lowering flame to medium-low and cook for 15 minutes 3) Let cool for 5 minutes
1 pound chopped butternut squash
1  large handful of parsley
1 clove garlic, minced
1 teaspoon ginger root, peeled and grated
1/2 teaspoon grated ginger
1/2 lemon, juice and zest of
1/4 teaspoon Himalayan salt
1/3 cup water
Pumpkin seeds
Directions: 1) In a large sautèe pan "sautèe the ginger and garlic in water for a about 5 minutes then add the squash, salt and lemon juice and cook until soft, about 30 minutes.
When done, combine quinoa and squash together in a bowl tossing together well. Top with fresh parsley, pumpkin seeds, lemon zest and (optional) drizzle olive oil on top and gently mix in well.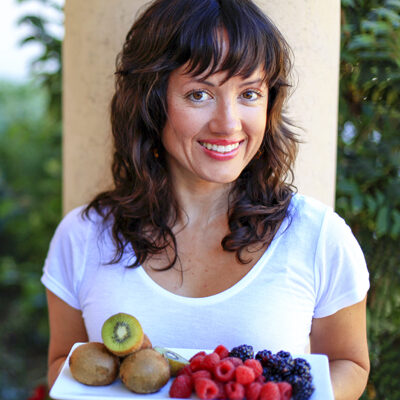 Hi, I'm Christine, thanks for stopping by! As a fibromyalgia thriver (symptom-free for over 10 years now thanks to diet and lifestyle changes), it is my passion to share the healing power of food.
As an RN and Holistic Nutrition Practitioner, it is my desire to empower you to take charge of your life.
Let's journey together to glowing health. Learn More
Your Health Transformation
Starts Here!
Sign up to get FREE healthy lifestyle tips and recipes!