Welcome to the 3 day smoothie challenge starting 01/02-01/04!  Myself and my fellow nurses at work will be doing this smoothie challenge together.  I took a poll at work asking them what kind of challenge would be the most feasible for them to do and the 3 day smoothie challenge was the most poplar vote.  So we are happy to have you join us in this challenge.  If us nurses with our crazy schedules can do it, we know you can too! 🙂
This is a great way to jumpstart a healthy diet, lose weight, feel more energy, get your cravings under control, and boost your system with healing nutrients. I have received several questions about how this smoothie challenge works.  So, I will give you several tips here and share with you how I do it and hopefully that will give you a better idea.
First off, remember these challenges are a fun way to encourage you to eat healthier, and knowing we are all supporting each other makes it that much better.  So keep it simple and enjoy, it's not made to be a stress.  Also if you need ideas for recipes here on my website I have several recipes to acquaint you with.
Guidelines for the Smoothie Challenge
In the three days of this challenge we will be eating or should I say drinking only smoothies, nothing solid.  All the ingredients must be plant-based, meaning fruits, greens, veggies, nuts or seeds, etc. and all raw.
How Much Should I Drink?
There is no limit to how much you can drink, just make sure to drink until you are satisfied.  If you're still hungry drink some more.  There is no calorie or carb counting here.  Make sure to drink plenty of water throughout the day.
Example Liquid Bases
For the liquid base of the smoothie you can use the following: filtered water, fresh coconut water, raw nut milk, raw coconut milk or even  fresh juice.
Helpful Tips For Smoothie Preparation
Thirty-two ounce mason jars are great for toting around your smoothie.  I personally will be preparing in the morning my smoothies for breakfast and lunch and bringing them with me for work.  It is a good idea to have a little more on hand than a little less, so think of preparing a smaller one for a snack too in case you find yourself hungry.  If you don't have a fridge at work pack them in a cooler or keep them in a cool area.  If you have a small travel size blender like a Nutri-Bullet that is perfect to take with you to work and you can make them directly there if time and space permits.
How to Shop
I like to stock up on bananas.  For a few reasons, they are cheaper than most fruit, they are so easy to prepare you just peel, and they are a great source of calories.  So several bunches of bananas are great to have on hand.  Right now, being winter here another fruit I stock up on are oranges.  You can get them so cheap at International Markets so they are another great staple.  If you like your smoothies thick and creamy then having a few packs of organic frozen fruit on hand is good too.  I always like a variety of greens like spinach, kale and Romaine lettuce.
I Don't Like the Consistency of Smoothies
Some have mentioned to me that they don't like smoothies because of the thick consistency.  If that is the case add more liquid and less fruit, or greens.  You can make a thick juice just by adding more liquid to it.  The consistency can be as thin or thick as you want it.  So please don't let that stop you from doing the challenge.
Please join us on Facebook and Instagram where I will share recipes and posts of our smoothies.  And please share what you're drinking  there too by tagging  @justglowingwithhealth!
I am so excited to get this challenge started already! I hope these tips and ideas have been helpful.  I'd love to hear from you below why you are looking forward to doing this challenge.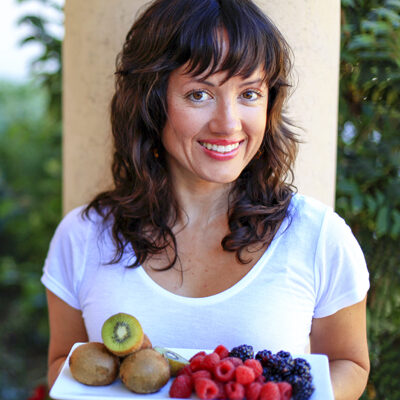 Hi, I'm Christine, thanks for stopping by! As a fibromyalgia thriver (symptom-free for over 10 years now thanks to diet and lifestyle changes), it is my passion to share the healing power of food.
As an RN and Holistic Nutrition Practitioner, it is my desire to empower you to take charge of your life.
Let's journey together to glowing health. Learn More
Your Health Transformation
Starts Here!
Sign up to get FREE healthy lifestyle tips and recipes!