Tropical Minty Spirulina Smoothie Bowl
Recently I was sent a pack of Spirulina from Spiral Spring to try. I was quite happy because I've never tried Spirulina before. But also because my husband has made the monumental decision of having a smoothie every morning for breakfast so I thought this was the perfect thing to add to them to give him an extra boost in the morning. Especially because he maintains a relatively high meat and processed food intake so the more extra minerals and vitamins I can sneak into his smoothie the better!
In case you're not familiar with Spirulina, it's a blue-green algae and is a rich vegetable source of protein, vitamins, fatty acids, antioxidants and minerals, especially the Spirulina Maxima. Apparently not all Spirulina are created equal. The Spirulina Maxima is the most complete nutritionally as far as chlorophyll and protein go. It's made up of 70% protein giving you more energy, while others only provide 60%. It has eight times more calcium than milk, it's a great source of beta-carotene and antioxidants.
Spiral Spring was so kind to give us a special 20% off DISCOUNT CODE 'Glow20' when purchasing so make sure to take advantage of that.
What I really appreciate about Spiral Spring is the extra care and attention they put into the process of making sure they provide a high quality product. You can see just how nutritionally dense it is below in the nutrition chart. I was worried it would have a strong taste to it, but you don't it at all.
My husband has been enjoying Spirulina smoothies every morning, and he's mentioned that he's feeling satisfied and energized. I've kinda been going crazy with it, I've made Spirulina banana ice cream, Spirulina, shakes and smoothie bowls I just love the green color it adds to everything, so pretty!
This one is a banana-free tropical minty Spirulina smoothie bowl..that's a mouthful,lol! It's super filling and satisfying. I love smoothie bowls because topping it with fresh fruit, nuts, seeds ,coconut or anything else gives it that added heartiness to really keep you full until lunch. Plus, it gives that satisfying feeling of having different textures to chew instead of just drinking your food. So even if you're not a smoothie fan (could that possibly exist??lol) then you'll love a smoothie bowl.
So really quick I wanted to share with you updates on my move to Italy! We are on the count down bebe! Just a couple of weeks to go, eek I can't even believe it. But, it hit me this week when we sold my FIAT. I suddenly found myself kinda tearing up as I said good-bye, is that crazy?? I loved my little red convertible companion. We had some good times together, so many beach runs and Topanga Canyon drives, ugh getting a little nostalgic and I haven't even left yet! Anyway make sure to come join me on SnapChat at glowwithhealth so I can share my journey with you and I'll be doing some vlogging on YouTube, which is new for me, so make sure to SUBSCRIBE to my channel here!
I just want to thank you again for all your support along the way and I hope you enjoy this recipe!
Servings 1
Recipe:
1 1/2 cups frozen mango
2 cups fresh pineapple
1 small Persian cucumber, ends removed
2 celery stalks
1 small avocado
1 handful fresh mint
1 cup coconut water
1/4 teaspoon Spiral Springs Spirulina Maxima
Blend above ingredients in the blender until smooth and creamy. Pour into a bowl and top with fresh fruit, coconut and anything else you desire. In the photo I used freeze dried strawberries which are really yummy.
Have you ever been to Italy? what were your favorite spots that I should check out? Leave a comment below and share!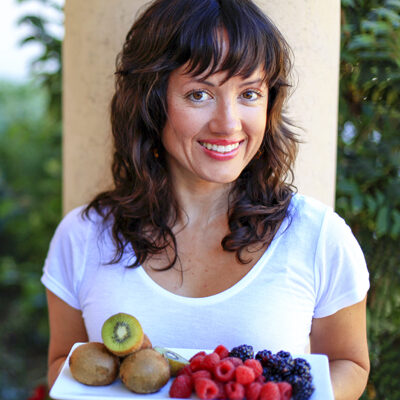 Hi, I'm Christine, thanks for stopping by! As a fibromyalgia thriver (symptom-free for over 10 years now thanks to diet and lifestyle changes), it is my passion to share the healing power of food.
As an RN and Holistic Nutrition Practitioner, it is my desire to empower you to take charge of your life.
Let's journey together to glowing health. Learn More
Your Health Transformation
Starts Here!
Sign up to get FREE healthy lifestyle tips and recipes!