HP's Days 5-7 Healing & Food Journal
Day 5 – 7 Raw Vegan Challenge
Can you believe a week has gone by already? This means I've made it 7 days successfully being Raw Vegan. I hope that you've taken the time to check out www.itsan.org to learn a little more about Red Skin Syndrome due to Topical Corticosteroid Addiction. When you Tag and Share our posts with your friends, you are helping to Raise Awareness that there is an illness called "Red Skin Syndrome".
Why is this important? You can only get Red Skin Syndrome as the result of using Topical Corticosteroids, whether over-the-counter or prescribed. (It's not a contagious illness that you contract nor is it the result of an allergy.) The symptoms mirror Atopic Dermatitis (like Eczema and other rashes) and so they often go improperly diagnosed. This results in the prescription of MORE Corticosteroids to treat the problem, when the real solution is to STOP using Corticosteroids. This enables the body to reboot its endocrine system and start recuperation. Since this is an issue very few Medical Professionals are aware of you may be helping to prevent someone from suffering unnecessarily. Here are some of the things I've experienced.
Day 5 I woke up feeling better than the day before. My stinky breath was gone and (without being to graphic) so was a bunch of other stuff. LOL! The day went pretty well. The weather was not good. It was cold overcast and actually sprinkled a bit. It is difficult for my body to function when it is damp. So I wasn't surprised that by the end of the evening a viral infection popped up on my left arm. It was only the size of a dime. When you have Red Skin Syndrome, infections can spread rapidly if not attended to quickly and aggressively. It demanded my swift attention.
Day 6 Thankfully, my infection stayed under control. But I didn't feel well for most of the day. The weather was cold and overcast, like the previous day. And I am now fighting a small infection. My left arm pit had a few swollen lymph nodes, probably trying to contain the infection. I did NOT feel hungry for most of the day and just drank a lot of warm Organic Herbal Tea and Suja Green Juice. Sometime in the evening I started to feel more upbeat and hungry. We had a friend over and played the board game "Ticket to Ride" until midnight.
Day 7 I stayed up too late last night. Then I had 2 "itching meltdowns" in the middle of the night. What happens is I wake up scratching and had to wash all my skin down. This makes me alert so it takes a while to fall back a sleep. Therefore, this morning I woke up tired, my skin felt raw and my body achy. Thankfully it was sunny outside which helped to motivate me. I spent a half hour on the deck laying out in my bathing suit. It was so nice warming my bones and soothing my skin. Today focused on drinking a gallon of hydrating fluids because I have NOT been drinking enough water.
"Why is she lying out in the sun?" You may be pondering.
Interestingly enough, Dr. Rapaport (a dermatologist) prescribes I lay in direct sunlight with bare skin withOUT sun protection for at least 30 minutes. He said it encourages speedy healing and is very good for the body. And he is correct because I feel my best on the days I lay out. Of course, I'm not allowed to lay out in the sun when my skin is hot and "flaring". I have to wait til the skin is calmed down.
Meal summary of the last few days:
Breakfast was all over the place. Day 5 was a Nutmeal.
Day 6 was a 'Two Mom's in the Raw' Blueberry Granola Bar, a fruit cup and a cup of Mint Herbal Tea since we went to a coffee shop with friends. Day 7 I drank 25oz of Watermelon pureed with water.
Lunch was about me finishing up some left over salad on Day 5. Day 6 I didn't really feel much like eating and just drank some herbal tea and had a couple of 'Laughing Giraffe Organics' Raw Vegan Chocolate Snakaroons.
I had actually called Christine earlier because I just felt kind of despondent and not hungry and was nervous I should be eating. She assured me to listen to my body and just try to keep my liquids up. She said my hunger would return when my body was not so taxed. Day 7 lunch was another 30oz of Watermelon pureed with water.
Day 5 Dinner was the Crackers & "cheese" plate with Tomatoes and Black Olives. My husband and I both ate a slice of the Citrus "Cheesecake" and Mixed Berry sauce that I made the previous day.
It wasn't til the evening of Day 6 that I actually got hungry. I ate a salad, snacked on some carrots with Heidi Ho Spicy Cheeze Dip. Dessert was a beautiful plate of Cantaloupe with Basil and Figs & drizzled a superb Orange Basil Cashew Cream Sauce that I made.
Tonight, Day 7, I will have another plate of that for dessert after I finish my dinner salad.
  Keep checking in!

Facebook: Heather Petersen HP Esthetics
Instagram: HP Esthetics
Pinterest: HP Esthetics
You can read about my past 36 months at www.eczemancipated.com For more information on TSA/RSS, check out www.itsan.org, the International Topical Steroid Addiction Network.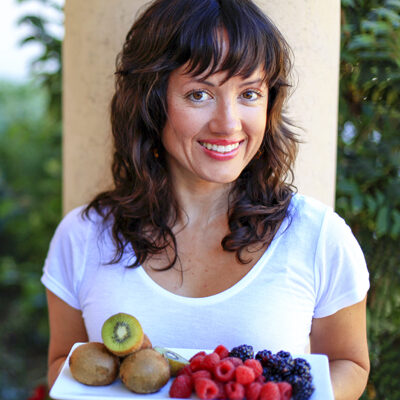 Hi, I'm Christine, thanks for stopping by! As a fibromyalgia thriver (symptom-free for over 10 years now thanks to diet and lifestyle changes), it is my passion to share the healing power of food.
As an RN and Holistic Nutrition Practitioner, it is my desire to empower you to take charge of your life.
Let's journey together to glowing health. Learn More
Your Health Transformation
Starts Here!
Sign up to get FREE healthy lifestyle tips and recipes!