HP's Food & Healing Summary Days 13-19
Day 13 – 19 Raw Vegan Challenge
Tomorrow we will have made it through 2/3 of the Raw Vegan Challenge. That makes me really happy because it seems we're over the hump. Here's the low down on the last few days on my health.
I will admit that this week was a tough one for me, both from a physical side and a food craving side. Today started my "Lady's Days" so the last 5 days have had their ups and downs. I was craving a lot of sweets and chocolate, so I think I ate a lot more fruit than my system was ready for (I'm more of a vegetable girl than a fruit girl). I noticed my protein craving was high, so I've been eating a lot more nut-based and bean-based meals. However, yesterday and today, I really craved green juices and ran over to Whole Foods to get a fresh juice made with a base of kale and celery. Hopefully the bitter greens balanced my system from all the sweet foods I've been eating.
I've found that when eating a raw food, I may desire to eat lots of sweet foods but that doesn't necessarily mean that's the best for my body. I have to be balanced with my vegetable, fruit, nut and seed intake – making sure to get enough of everything.
My eyes have been swollen since Monday; this could be from the windy alternating weather patterns and the dusty construction going on in my backyard kicking up my allergies a notch. It could also be the detoxifying effects of being Raw Vegan for 2 weeks. Sometimes the eyes swelling are a sign that the Pancreas is taxed due to enzyme deficiency. Since I'm eating lots of raw food you may ask why would I have an enzyme deficiency??? Well it could be that my digestive system is not assimilating the live enzymes quickly enough. An easy fix is to add a Vegan Multiple Enzyme Digestive supplement. I happen to already have some on hand because I was having digestive issues before the Challenge, but I stopped taking them for the purpose of seeing what my body would do during the challenge. I made it about 2 weeks without it, but I'm sure the body focusing on my "cycle" has redistributed its energies and stopped focusing as intently on my digestion.
The Digestive supplement has been helpful for my tummy, but my swollen eyelids (especially the right one) are raw and pink. This could also be because I'm having a Red Skin Syndrome "Micro Flare". I have micro flares around my "monthly" most likely due to the hormone changes. Remember that Red Skin Syndrome is due to putting topical hormones on my skin which were absorbed into my body; any changes in my endocrine system could potentially trigger a flare. My legs have especially been swollen around my knees and ankles.
I've been really tired the last 2 days, like crazy tired. My itch level went waaaay up over the last 4 days. So I've been waking up several times a night scratching arms and legs into oblivion. I even had to take a 3am Epsom salt bath last night. Middle of the night baths signify pretty bad nights. From all the scratching I've really sliced up my hands, wrists, 'inbow' and ankles. My ankles are trying to create a little bacterial infection, so I've been focused on dousing them in essential oils, Hawaiian Moon Aloe and a couple times used an Iodine wash to really knock it down. I prefer not to use the Iodine wash, but sometimes you just have to be acute in your attack.  Interestingly all the symptoms I've been experiencing this week have all been pancreatic symptoms. So I will be switching my food intake to be bitter, green, vegetables and less fruit and sweets.
I'm hoping my symptoms will go away in the next 5 days. So we'll see.
Red Skin Syndrome Awareness
ITSAN is doing a fund raiser through https://www.booster.com/scratchymonster from now thru July 1st. You can order a t-shirt for yourself, friends and family to help support Raising Awareness for Red Skin Syndrome. So many people loved the illustrations from the "Taming the Scratchy Monster" children's book they requested ITSAN make t-shirts with some of the illustrations. For $25 you can buy one in Turquoise or Light Blue, Purple and Black. Check them out, they are really cute!
Thank you for your continued effort in sharing this information!
How are things going with your raw vegan efforts? I would love to hear from you. Just Tag #justglowingwithhealth so we can check out your creations and some of our favorites will be reposted on our social media network.
Meal summary of the last few days:
I noticed that this year I've been eating a lot of packaged raw vegan food, i.e. cereals, sweet treats, kimchi, nut milk, vinegar-free pickles, etc. I only eat raw a straight 30 days/year so I get excited and want to try all this stuff from the store that's "raw vegan".
TIP: just cause this stuff is raw vegan does not mean all the ingredients are good to consume regularly. You'll find that many items have organic versions of sweeteners such as agave, etc. I don't consume a lot of sweeteners in my normal diet. Agave in general I try to avoid, even though all things are good in moderation. Packaged sweet ingredients may be something you want to keep a rarity in your pantry. 
Also having packaged goods are not even normal in my regular diet. I make almost all of our food at home, including Oatmeal Raisin cookies that I keep pre-made and unbaked in the freezer so I can bake a couple of cookies a night. I've decided that after I finish all these packaged goods I'm not gonna buy anymore, except Raw Coconut Water. I don't have many things left so my last 2 weeks should be a more balanced diet for me.
In summary try to make as much as you can at home.
Breakfast Mainly green smoothies, fresh whole fruit and the raw vegan cereal. I picked up some fresh green juices at Whole Foods.
Lunch and Dinner This week I did salads. I sliced fennel thinly and got a raw beet, red cabbage & red onion salad that I laid over a bed of thinly sliced fennel, it was awesome.
There was that beautiful Cranberry and Fava Bean salad I made – the Garbanzo Bean Mediterranean Salad.  I picked up the Ozuke fermented Collard and Kale Kimchi to add to my salads.
I've been really into Pine Nuts this week.  I finished up all the Flax Crackers and all the sauces I made last week.
The Graduation party I went to last weekend was awesome. Not only did they have a 1920s style band but the hostess made sure to have a raw vegan dish for me. The Gazpacho hit the spot and the stuffed cucumbers were a great touch!
Snacks were these "Snackeroons" by the Laughing Giraffe Organics, my flavor of choice was the lemon and of course the chocolate. I also whipped up some Cacao Almond Butter Calimyrna Fig Bites.
Keep checking in!
— HP
www.eczemancipated.com
Facebook: Heather Petersen HP Esthetics
Instagram: HP Esthetics
Pinterest: HP Esthetics
You can read about my past 36 months at www.eczemancipated.com For more information on TSA/RSS, check out www.itsan.org, the International Topical Steroid Addiction Network.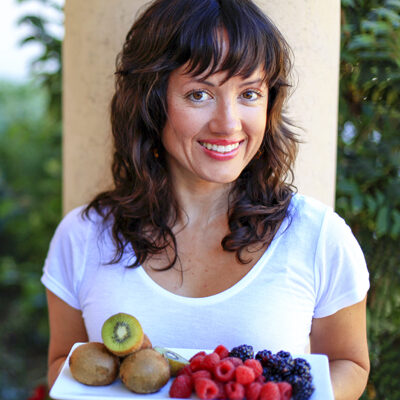 Hi, I'm Christine, thanks for stopping by! As a fibromyalgia thriver (symptom-free for over 10 years now thanks to diet and lifestyle changes), it is my passion to share the healing power of food.
As an RN and Holistic Nutrition Practitioner, it is my desire to empower you to take charge of your life.
Let's journey together to glowing health. Learn More
Your Health Transformation
Starts Here!
Sign up to get FREE healthy lifestyle tips and recipes!