Citrus Avocado Cardamom Dressing
To start off I wanted to give you all an update on my friend and fellow blogger Heather Petersen.  Many of you know that she suffers from Red Skin Syndrome and has been doing a 30 day raw vegan challenge to raise awareness it.  While she has done really well on the diet, her body has gone through various phases of detoxing which can be harsh at times.  Currently her hands are so swollen and painful that she is unable to write, so she has had to put her posts on hold.  As she has mentioned in some of her posts the healing phase of this debilitating condition is a long, slow process.  She hopes to be posting again shortly and we thank you for your understanding and patience! My prayers and thought go out to her.
Now on a different note…
Lately I have been really into using cardamom.  It's such a deliciously aromatic spice.  So, I have been doing a lot of experimenting with it.  I initially created this  citrus avocado cardamom dressing recipe for a kelp noodle dish I was making, and I wanted a Thai-ish feel to it.  But, it really can be so versatile so you can use it as a salad dressing, or as a sauce for lettuce wraps.  The avocado base gives it a really nice creamy texture perfect for sauce or dressing.
Recipe:
1/2 medium avocado, peeled and seed removed
2 1/2 Navel oranges, juice of
1/2 large lime, juice of
1/4 tsp Cardamom
5-6 large basil leaves
pinch of red pepper flakes
1/3 cup fresh cilantro
1) Blend the citrus juice and avocado together on high until creamy.
2) Then add in the herbs and spices and continue to blend until well mixed together.
Garnish with fresh herbs of choice and enjoy!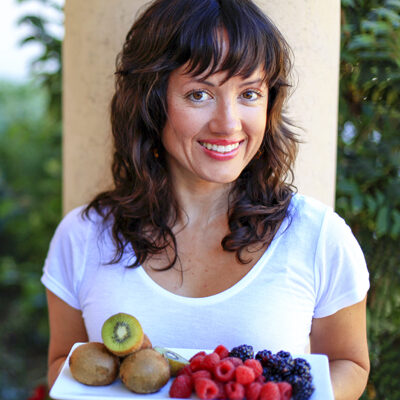 Hi, I'm Christine, thanks for stopping by! As a fibromyalgia thriver (symptom-free for over 10 years now thanks to diet and lifestyle changes), it is my passion to share the healing power of food.
As an RN and Holistic Nutrition Practitioner, it is my desire to empower you to take charge of your life.
Let's journey together to glowing health. Learn More
Your Health Transformation
Starts Here!
Sign up to get FREE healthy lifestyle tips and recipes!