Raw Vegan Day 2 + RSS Fun Facts
First things first…
In 1991 Drs. Mitsukuni Enomoto, Seiji Arase, Fumuo Shigemi and Katsuyuki Takeda published an article in the Journal of Japanese Cosmetic Science Societies outlining the characteristic symptoms of the Red Skin Syndrome  or RSS  that occur upon cessation of Corticosteroids as the body goes into withdrawals.
This report explained that in all cases patients began to experience the following within 5 days of stopping Corticosteroids:
Weakness
Fatigue
Low Grade Fever
Oliguria
Tachycardia
Gastrointestinal Dysfunction
Emotional Dysfunction
Adreno-Cortical Insufficiency
Diffuse Edematous Erythema on the skin, beyond where the primary areas of original Atopic Dermatitis
For more information and fun facts, check out www.itsan.org, the International Topical Steroid Addiction Network.
Day 2 of 30 Day Raw Vegan Challenge
Yesterday I made entirely way too much food, so today was almost as delightful as yesterday. So I wasn't very hungry today. I ran a lot of errands, including looking at a bunch of juicers so I can get back to my fresh daily juice. I will probably buy one tomorrow.
Breakfast – Left over Blueberry Ohs in Banana Milk with Granola. (All recipes I used yesterday.)
Lunch – An entire head of Celery washed and trimmed with my "Guacabouleh" dip. I just couldn't get enough of it yesterday.
Snack – Beautiful Berry Smoothie.
Berry Smoothie Recipe: About a cup of organic Frozen mix of berries (blueberry, blackberry, raspberry and strawberry) 1 cup water and 1 Cup Organic Tart Cherry Juice. Blend on high to preferred consistency. Drink up!
Dinner – I wasn't really hungry by the end of the afternoon. So I made a small mixed green salad with the same dressing from yesterday and Cucumber.
Snack – Organic hearts of Romaine and dipped them into guess what??? YES! "Guacabouleh"
Until tomorrow, Mangia!
Heather Petersen
www.eczemancipated.com
Facebook: Eczemancipated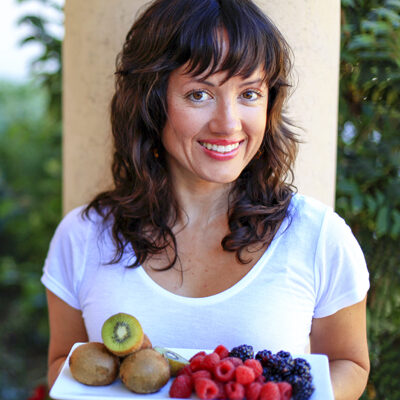 Hi, I'm Christine, thanks for stopping by! As a fibromyalgia thriver (symptom-free for over 10 years now thanks to diet and lifestyle changes), it is my passion to share the healing power of food.
As an RN and Holistic Nutrition Practitioner, it is my desire to empower you to take charge of your life.
Let's journey together to glowing health. Learn More
Your Health Transformation
Starts Here!
Sign up to get FREE healthy lifestyle tips and recipes!