No-Bake Ghiradelli Chocolate Fudge Cake (Gluten-Free)
I'm a little over-due in getting this chocolate cake recipe out since I last posted it on Instagram and I'm sorry! But I promise it'll be worth the wait. If you're a chocolate lover this recipe is gonna be your new best friend. I'm not at all a chocolate lover and I'm obsessed with it!
Today I'm in a chatty mood so I hope you don't mind. If I don't contain myself I'll probably start babbling about all sorts of things so I'll try to stay focused (hehe). My husband and I spent last week out-of-town up in Ventura County with friends of ours. We had such a great time. They're newly vegetarian and vegan so I offered to do the meal preparations for the week to give them ideas and inspiration for their new way of eating.
It was nice for me to have the company of eating together with others the same meal. Our husbands stuck with their meat dishes along with our food and they said they enjoyed it so I'm happy with that. I don't believe in forcing my lifestyle down anyone's throat but incorporating more of it into their diet is always a great start.
This cake has a secret ingredient in it..well I guess it's not so secret if you've looked at the photos…it's zucchini! I know that probably sounds really weird, but I promise you that it's not even slightly detected in the flavor. The reason I used it is because it gives a wonderful moist but almost baked texture that really is what makes this cake so spectacular.
This came out so amazing that it's seriously a dessert that I'll be brining with me to share at dinner parties and with guests. Everyone loved it including our manly men husbands lol. They couldn't get over how rich, decadent and chocolate-y it was.
The best part of this recipe is that even though it tastes like a sinful pleasure it's totally GUILT-FREE and 100% good for you! I mean just look at this decadence.
Plus, there's a bonus it only takes ten minutes to make and there's not baking dishes or lot's of messy clean-up afterwards. Ok I can't take it I have to come out and say it..a raw foodies life is rough, we are so deprived. It's such a pity! Eating bite by bite a rich fudgey chocolate cake that feeds our bodies, nourishes us and tastes sinful is so rough! (winky-smile)
In case you aren't familiar with buckwheat flour you can either buy it in a grocery store in the baking section already ground. Or you can buy the raw buckwheat groats from a health food store and grind them into flour using a coffee grinder. Same with the coconut flour. For this recipe I used store-bought flour version cause that's what they had on hand.
This cake will last for 5-7 days if stored in the fridge in an air-tight container, but the problem will be getting it to last longer than a day without getting eaten!
Servings 6 thick slices
Recipe:
Cake
1/3 cup coconut flour
2/3 cup buckwheat flour
2 tablespoons Ghiradelli unsweetened cocoa powder
1/2 cup zucchini,peeled and chopped
1 teaspoon Madagascar Vanilla extract
2/1/2 cups deglet dates, pitted and soaked in pure water until soft
2 tablespoons cashew butter
2 tablespoons maple syrup
For Garnish
Goji berries
Pecans
Pumpkin Seeds
Directions: 1) Process in a food processor all the above ingredients until it becomes a sticky dough. 2) Transfer the mix into an 8 inch round cake pan lined with parchment paper. 3) Press mix firmly down into pan and place in the freezer for several minutes. In the mean time begin making the frosting.
Chocolate Frosting
2 tablespoons coconut oil
2 tablespoons Ghiradelli unsweetened cocoa powder
1 tablespoon maple syrup
1 teaspoon Madagascar vanilla
Directions: 1) In a small bowl whisk together the above ingredients until thick, creamy and smooth. NOTE: If the coconut oil is hard you can heat it very gently on the stove just enough to soften it. 2) Pull the cake out from the freezer and spread the frosting over it evenly. 3) Place back in the freezer for another 20 minutes. Just enough to really have a firm texture (not frozen). When ready take out of the freezer top with goji berries, pumpkin seeds and pecans, slice and plate.
Substitutions: instead of cocoa powder you can use carob or cacao, maple syrup can be substituted with date paste, agave, or coconut nectar or sweetener of choice. Any nut or seed butter can be used instead of cashew butter. Instead of coconut oil you can use avocado. Also medjool dates can be used in place of deglet dates, IF you use medjool dates I recommend tasting the mix first before adding maple syrup it might too sweet.
Enjoy, enjoy, ENJOY! I made this with lots of love and hope you LOVE it too! IF you did leave me a comment below and share!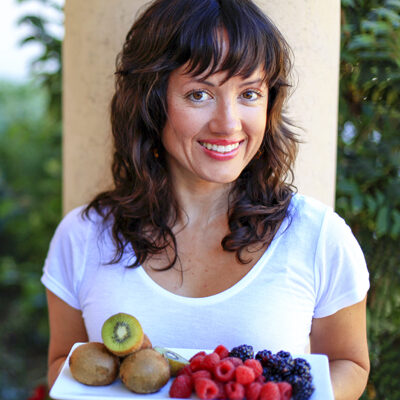 Hi, I'm Christine, thanks for stopping by! As a fibromyalgia thriver (symptom-free for over 10 years now thanks to diet and lifestyle changes), it is my passion to share the healing power of food.
As an RN and Holistic Nutrition Practitioner, it is my desire to empower you to take charge of your life.
Let's journey together to glowing health. Learn More
Your Health Transformation
Starts Here!
Sign up to get FREE healthy lifestyle tips and recipes!