Juicing is such a great way to boost your body with powerful nutrients. In just one glass the amount of fruits, veggies and greens you can infuse your body is sometimes more than you'd eat all day. Unless you're on the raw food diet, of course. But if you're not one who's not a big fan of veggies and greens on their own, then juicing is a great way to get them into your diet. The best part is you can add sweet fruit to it and your greens suddenly turn into a tangy punch! It doesn't even taste healthy, lol.
If you have kids, forget the juice concentrate drinks filled with sugar and preservatives, even coloring.  This is the best source of vitamins and minerals you could give them.  You can make sweet juice while sneaking in the spinach, cabbage, celery and all sorts of vegetables that they normally might run from.
This one is made with a rich purple cabbage and deliciously tangy sweet green apples, mint, lime and fennel. It's absolutely incredible! It's like a sweet tangy Kool-Aid. Oh wow I literally haven't thought about Kool-Aid for years until now! Those funny commercials with the red Kool-Aid jar/man running around. Wow brings me back to elementary school! Anyway..please don't drink Kool-Aid, drink juice!
Just look at the lovely color that comes from it, every time I make juice I'm amazed at how gorgeous and rich the colors are.  Just imagine if it looks that vibrant and intense, think of how ALIVE it will make you feel on the inside! Unlike most store bought kid drinks that contain chemicals, sugar, preservatives and dye, which do not belong in our body, fresh juice is 100% optimal nutrition to build our bodies and health.
Purple cabbage has a plethora of amazing nutritional benefits! It's been shown to defend the body against stress and promote healing.  It's filled with anti-cancer properties, it's a blood builder and is rich in minerals that keep your skin glowing with a clean, clear complexion. It even contains important nutrients that help with anti-aging.  It's an alkalizing food, helping to regulate the body's pH level. It also aids in digestion and elimination. This is definitely a food to be included regularly into your diet.
Serves 1
Recipe:
3 purple cabbage leaves, peeled off
4 sprigs of mint
2 large green apples, cored
1 large lime, peeled
1 fennel bulb, sliced thin
Process all ingredients in your juicer, pour in a beautiful glass and enjoy!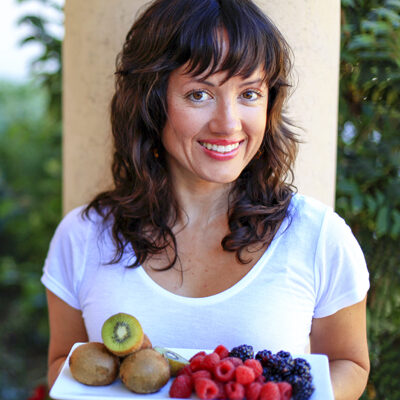 Hi, I'm Christine, thanks for stopping by! As a fibromyalgia thriver (symptom-free for over 10 years now thanks to diet and lifestyle changes), it is my passion to share the healing power of food.
As an RN and Holistic Nutrition Practitioner, it is my desire to empower you to take charge of your life.
Let's journey together to glowing health. Learn More
Your Health Transformation
Starts Here!
Sign up to get FREE healthy lifestyle tips and recipes!