Apricots with Spiced Banana Nice Cream
It's officially summer today woohoo! My favorite fruits are those of the summer. It makes it so easy to stay raw cause I can just feed off watermelon, peaches, cherries and apricots all day!
Unfortunately here in La Spezia (Italy) summer has yet to show its face. It's a huge change for me adjusting to the lack of sun and the over abundance of rain here in comparison to Los Angeles. But I guess it's time to experience how the other 90% of the world lives…with seasons 😉 . So, I'm embracing scarves and sweaters in June, bring it on!
This is one of my first posts since having got settled into country life here in Italy so I have so much to catch you up on!
In our town here most have their own gardens of some sort. It's amazing how efficient the Italians are with space, they're teaching me so much! They're also very generous and hospitable with me "La Americana" as they refer to me and they're always gifting some fresh veggies or fruit off their trees, like these apricots. They're totally spoiling me!
One of our neighbors is a self-sustained farmer who lives off acres of land cultivating his own food, making his own bread, olive oil, wine and anything else you can imagine. He found out how much I love fresh fruits and veggies and he started leaving boxes of fresh picked produce weekly on our porch, it's so awesome! When he leaves it he yells out "ey l'americana!" It's so cool I feel like I'm back in time here living in the country.
Lately when he leaves the veggies he'll even invite us over to show, with his wife, how to make a typical Italian dish with them.
Wi-fi doesn't even exist in our particular little town. I have to go into town to work on the computer. But, it's amazing how much more time I have without being absorbed on the internet. It's actually kind of a blessing to be forced into slowing down my pace of life.
So, enough about me sorry for babbling there's just so much to share! Back to the recipe. These apricots were so ripe the juice was like a thick sweet honey. It's amazing how different they taste from store-bought.
This recipe's so super simple requiring only two main ingredients. It makes for a fun summer dessert, kids will love this and it's dairy-free with no added sugar. So much better for them than chemical and sugar filled store-bought desserts! I eat it for breakfast on days when I'm at home and have time to sit down and enjoy, instead of being on the run with a smoothie.
I have to warn you that they melt quick so be sure to make them when you can eat them right away.
Apricots have a ton of health benefits. Like most other fruits apricots are rich in fiber helping to keep the bowel movements regular, which is so important because health starts in the gut. They're also a great source of many essential minerals like calcium, phosphorous, manganese, copper and iron. Iron is a key part of red blood cell formation so they're also beneficial for anemia.
I'm excited for you to try this super yummy, healthy treat! Let me know in the comments below what your favorite summer fruit are, I'd love to hear!
Recipe:
3-4 large apricots halved and pit removed
3 frozen bananas, chopped
1/8 teaspoon fresh grated nutmeg
1/8 teaspoon cinnamon
Optional but recommended toppings:
Coconut sugar
Coconut nectar
Directions: 1) Place the halved apricots on a platter and set aside. 2) In the Vitamix or high-speed blender place the bananas along with spices and blend on low, you will need the tamper (if using the Vitamix) to help it along. If not, stop as needed and scrape down the sides with a spatula. (NOTE it's very important not to over blend, it will take a little longer but the consistency should be very thick and creamy not smooth like a smoothie). 3) Scoop the ice cream out topping each apricot with it. 4) Drizzle coconut nectar over each and sprinkle coconut sugar.
NOTE: Coconut nectar can be substituted with maple syrup or other sweetener of choice. If you don't have a high-speed blender you can use a food processor instead, or you can let the bananas thaw out slightly just enough to blend in a regular blender. Apricots can be substituted with figs, peaches, nectarines or any sweet summer fruit of choice.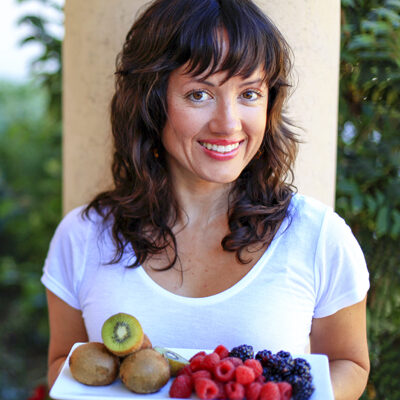 Hi, I'm Christine, thanks for stopping by! As a fibromyalgia thriver (symptom-free for over 10 years now thanks to diet and lifestyle changes), it is my passion to share the healing power of food.
As an RN and Holistic Nutrition Practitioner, it is my desire to empower you to take charge of your life.
Let's journey together to glowing health. Learn More
Your Health Transformation
Starts Here!
Sign up to get FREE healthy lifestyle tips and recipes!