HP's Day 1 Raw Food Challenge Recipes
Here are HP's recipes from day one of our raw food challenge. She will be posting weekly a "What I eat in a day on the raw food diet." If you're just reading of this challenge now and would like more details check out the post HERE giving you all the details. To see her complete log for days 1 to 5 click here.
Apple Fennel Salad with Lemon Mustard Dressing
Ingredients
2 Tablespoons spicy mustard (grey poupon or stone ground type)
1 Tablespoon non-spicy mustard with creamy texture
1 lemon, juice of
2 Tablespoons capers, strain brine
4 Celery ribs, thinly sliced
1 Fennel bulb thinly sliced
1 Apple, cored and thinly sliced
Directions
1.Mix mustards, lemon juice and capers in a large bowl. (Optional) add a drizzle of agave for a sweet and salty flavour.
2.Combine celery, apple and fennel in the bowl with mustard dressing and toss to combine.
3.Portion into serving bowls, enjoy!
Summer Agua Fresca
Ingredients
1 large round melon of choice (canary, honeydew, etc) or 1 small watermelon
Purified or distilled water
(Optional) add several basil, cilantro or mint leaves, lime or lemon juice for extra fresh flavour
Tools
Blender
64 oz pitcher
Cutting board
Knife
Directions
1.Remove the melon rind and discard
2.Slice melon in half and cut into 2 inch pieces
3.Fill your blender with 2-4 cups of melon and equal parts water and any herbs or citrus juice as well
4.Blend on high until creamy and smooth. Pour into pitcher. Repeat the process until you have the entire melon blended.
5. Pour into a glass with ice and enjoy!
Apricot Pecan Bites
Yields 24 bite size servings
Prep time 20 minutes
Ingredients
1 Cup raw pecans
2 Cups dried apricots (sulfur free)
1/3-1/2 Daily Apple Caramel Finer Blend, (start with 1/3 cup for your first batch)
2 pinches ground black pepper
Tools
Food Processor
Parchment paper
Cutting board
Tablespoon
Directions
1.Combine all ingredients in the food processor and select the middle setting to blend mix. Turn the processor off when the mixture starts to stick.
2.Place parchment paper piece of the cutting board (or flat surface) about 12-24 inches in length. Using the tablespoon scoop out 2 tablespoons of mixture and form into little round balls.
3. Store bites in a glass air-tight container in the fridge, they will last a couple of weeks.
Be sure to leave a comment below letting us know how the raw food challenge is going for you so far, how you're feeling and what you're eating. And if you plan on making any of these recipes let us know below how they come out for you!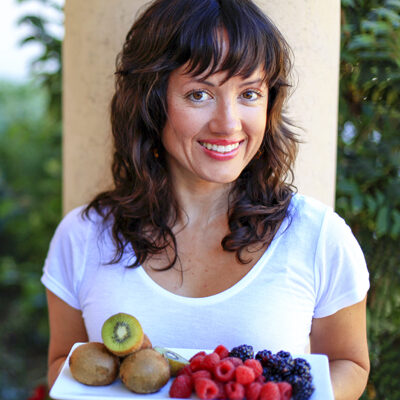 Hi, I'm Christine, thanks for stopping by! As a fibromyalgia thriver (symptom-free for over 10 years now thanks to diet and lifestyle changes), it is my passion to share the healing power of food.
As an RN and Holistic Nutrition Practitioner, it is my desire to empower you to take charge of your life.
Let's journey together to glowing health. Learn More
Your Health Transformation
Starts Here!
Sign up to get FREE healthy lifestyle tips and recipes!