Homemade Strawberry Syrup
Since being on this lockdown I have been loving the time I've had in the kitchen to get creative with healthy delicious and fun recipes. Today I spent the whole day just creating some simple, easy, comfort foods that's where this fresh homemade strawberry syrup was born. In my pre-lockdown days (seems so long ago) my priority was quick, easy on- the-go meals to keep me energized in order to get through my busy day. Now, I'm enjoying spending a little more time in the kitchen making meals that feel more decadent indulging but that aren't taking a whole lot of more time or complicated ingredients.
This strawberry syrup does just that. It can turn that simple bowl of  yogurt into an indulging dessert, an average plate of  pancakes with store bought syrup now becomes such a delectable fun meal for the kids with bright red homemade strawberry syrup that they can help you make.
Most recipes call for refined white sugar, which is not something I want to put in my body. It's nothing but a chemical refined poison as far as I am concerned. It wreaks havoc on our health. And especially for kids refined sugars should not be a part of their diet. Sugar lowers the immune system and right now that is the last thing any of us want, we want to put in our mouth as many  immune boosting foods as we can now more than ever!
This syrup is so easy, simple and quick to make. If I had known how easy it was to make I'd have done it along time ago! you know how it is when you're on a tight schedule it's all about the basics, it's only now that I'm tapping into more of my creative side where I have the time to make something delicious and can enjoy dressing it up with little extra condiments that I never took the time to do. This  lockdown is teaching me to enjoy one day at a time. Instead of using my time stressing over when it's going to be over, which I have no control over, I'm using my time to focus on hobbies, getting creative and learning new things that I've always wanted to and just never had time.
This strawberry syrup is:
-Made with fresh strawberries and free of preservatives
-Perfect with pancakes, waffles, yogurt, oatmeal, nice cream and pretty much everything
-Refined sugar free
I made this syrup with my lemon strawberry pancakes and i drizzled…ok more like drowned my pancakes in it and added lots of fresh cut strawberries. All I can say is it..was…DIVINE! I was giddy as I was eating it, I couldn't believe how with just a handful of whole fresh ingredients, totally healthy at that, such an indulgent guilt-free food comfort food can be made! I was literally doing a happy dance in my chair at the table…good thing no one was home at the time lol.
Bottom line is this syrup goes with anything…even dark chocolate! You absolutely must try it and when you do please let me know how you like it and what you made with it. Leave me a comment here below or tag me on instagram at @justglowingwithhealth I just love seeing your photos when you make the recipes I share!
This syrup definitely needs to be consumed shortly after making it otherwise it turns into more of a glaze and the consistency becomes thick and sticky you will not be able to pour it and it'll turn into a mess. For this reason the recipe is a smaller portion for about only 4-5  pancakes so other are no left overs. If you are making this for more than that then you'll need to double it.
Makes 1/3 cup
Recipe:
1 cup chopped strawberries
1/4 cup unrefined brown cane sugar
1/2 cup water
Place the strawberries in a small pot and cover with water. Simmer and cook for 10 minutes until the water is bright red and the strawberries are mushy. Strain the strawberries out and put the strained water back into the pot. Add the sugar and bring to a simmer. Simmer until the syrup begins to thicken 5-10 minutes. The syrup will thicken as it cools so make sure not to over cook it burning it. When you're happy with the consistency turn off the flame and set aside too cool.
NOTE: Add the strained mushed strawberries to whatever dish you're making ie pancakes or waffles, oatmeal, yogurt, etc. so as not to waste them.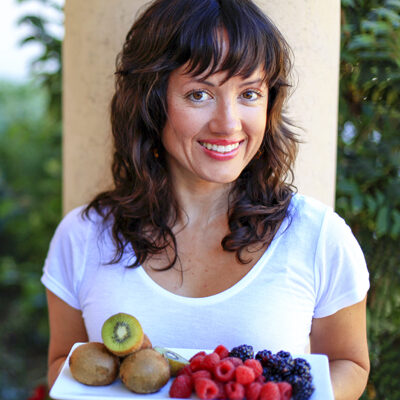 Hi, I'm Christine, thanks for stopping by! As a fibromyalgia thriver (symptom-free for over 10 years now thanks to diet and lifestyle changes), it is my passion to share the healing power of food.
As an RN and Holistic Nutrition Practitioner, it is my desire to empower you to take charge of your life.
Let's journey together to glowing health. Learn More
Your Health Transformation
Starts Here!
Sign up to get FREE healthy lifestyle tips and recipes!