Highlights of My Trip to Italy (Part 2)
This post is a continuation from my earlier post part 1 of my highlights in Italy. I took so many photos, ate so much food, and saw so many sights I didn't want to overwhelmingly stuff it into one post. I have a ton of pics to share so I'll try to ramble too much, but it's so hard I mean it's Italy!
This post is the second half of my trip featuring Rome, Cinque Terre and Portovenere (Liguria).I'll be highlighting food spots I found that had great plant-based options along with the sites we saw. Unfortunately in Rome there was a lot of construction going on so it was hard to get good photos, but I did my best.
The Spanish Steps are a must see. Below is the fountain in the piazza there. The steps were full of construction but they were still beautiful to see. In this area you will find the "Rodeo Drive" of Rome some of the most extravagant shops around.
I don't have the food photos but I did find a wonderful restaurant here that had a wonderful menu of smoothies, juices and salads. It's called Ginger, it's not by any means vegan but they had great options and the ambiance was really cool.
I've been to Rome so many times and each time I get emotional like it's the first time. When I say emotional I mean it blows my mind the history compacted in one city. You'll be walking down the street and you'll see construction workers digging up part of the street where they found a historical landmark from 2,000 years ago buried under the street, it's stupendous.
These below are the ancient ruins near the Colosseum. You can buy a ticket to see both the Colosseum and the ruins for like 15 euro and I highly recommend it, so worth it!
The Colosseum is just stunning, it's one of those things you just have to see in person it gave me the chills seeing inside of it. Especially, knowing all the history that took place there. While you're there don't forget to stop and pose with the hunk of gladiators they have walking around posing lol. If you do just give them a little tip.
My husband had fun playing tourist in his own country so he had me snap a shot. Funny thing, now that he's lived in America for few years when he speaks Italian they said he has an accent (apparently he's picked up a slight American twang). They thought he really was a tourist and treated him as such, trying to raise their prices.
The top photo below is Piazza Venezia another breathtaking piece of history. Seeing Rome during the day is one thing but when you see it at night it's just another world. It lights up making it so much more enchanting and the city really comes to life.
Fruit stands were in abundance throughout the city.
IF you're in Rome you must stop by Grezzo Raw Chocolate. They are a raw food chocolate shop, but have several raw vegan desserts from ice cream, to cakes, brownies, tiramisu depending on the fruit that's in season. It's such a treat!
I'm not a fan of the big cities, especially with all the chaos and traffic. So one of my favorite parts of Rome was the district called Trastevere. It's a quaint little gem nestled behind all the hustle and bustle of the roaring city. It really felt like a small town all on its own with narrow,cobblestone streets rustic decor.
Moving up North we spent the majority of our trip in La Spezia. It's a central place to easily reach nearby beaches and other scenic places like Cinque Terre, my absolute favorite place. It's made up of five little lands on the Sea and it's quaint, it's rustic and brimming with Italian charm at it's best. My favorite two are Vernazza and Monterosso. Monterosso is pictured below
The water was warm, pristine and calm as pool. We literally spent hours here, you can bring rafts and just float soaking up local color. Snorkeling masks are great to bring since the water is so colorful and clear.
My bestie came to visit me from Germany so we had a great time catching up over smoothies and window shopping on the beach…and taking selfies lol.
The fruit is so ripe and in abundance everywhere in the summer. I fell in love with the colors of this fruit box how enticing is it!
On to the next sight Portovenere. It's a small colorful port town. This is another place I really enjoy, however the water is not nearly as nice as Cinque Terre. But it's a wonderful place to sightsee or boat ride
I was so excited to see that La Spezia has, as of recent a raw food and vegan restaurant called Equilibrio. Of course I had to try it out! I don't have pictures of all the food but some are featured here: humus on fresh made integral bread, gazpacho, and key lime cheesecake. It was all wonderful and I was so happy to see such foods picking up over there as well.
Stacked grilled veggies
Different gluten-free pasta dishes that were made for me by family. So wonderfully delicious.
More dishes made by our friends who invited us over. They all went so out of their way to make sure they fed me delicious vegan foods. I never ate so good. Top left photo is a bowl of marinated porcini and parsley in lemon juice and olive oil. Bottom left polenta with a polenta tomato sauce (incredible). They love veggies there so they always had a great salad or platter of vegetables out on the table as well.
As you can see there was no lack of good eating nor did I miss out on anything eating vegan!
I hope you enjoyed my trip highlights! Have you ever been to Italy? What was your favorite part and how did you find the food there? I'd love to hear!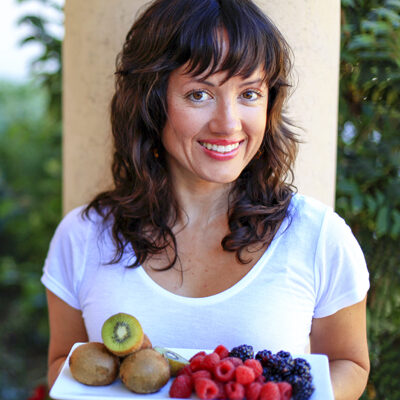 Hi, I'm Christine, thanks for stopping by! As a fibromyalgia thriver (symptom-free for over 10 years now thanks to diet and lifestyle changes), it is my passion to share the healing power of food.
As an RN and Holistic Nutrition Practitioner, it is my desire to empower you to take charge of your life.
Let's journey together to glowing health. Learn More
Your Health Transformation
Starts Here!
Sign up to get FREE healthy lifestyle tips and recipes!