Freezer Chocolate with Marzipan + Love On A Plate Book Review
Boy do I have a treat for you today.. raw vegan homemade chocolate bebe! This is such a fantastic recipe, it's super easy to make and only requires six ingredients. The recipe comes from the gourmet uncookbook called Love on a Plate, written by the fabulous Cara Brotman and Markus Rothkranz.
I was recently sent a copy of their new recipe book and I instantly fell in love with it. I know they say don't judge a book by its cover but in this case just looking at the quality of the hard cover and the cover photo itself it instantly gave me the impression that it was going to be good!
The whole appeal of raw foods is not only their health benefits but their vibrant rich colors that instantly capture your visual sense. The beauty of this book is that it contains more than 100 recipes with full-color photos of each. I've seen recipe books with little or no photos and the ones they did have were black and white, totally doesn't work for me. I need good, visual photos to capture my attention! Wouldn't you agree?
What I really appreciate about the recipes in this book is that they take the basic everyday comfort foods for people and create raw vegan, healthier, tasty, appetizing recipes with them. It's so common for those just starting to transition to the raw food diet to crave the foods they used to love.
Here you'll find so many of those foods in healthier versions to get you through that transition period. Or maybe you just want to add in more raw foods and serve them to your family who's not a fan of vegetables yet, this is a great book to help you do that. From pies, pizza, bacon, lasagna, to pop tarts, cheese, cakes and spaghettios without having to sacrifice your health or feel guilty after eating them.
They really show you how to eat well without sacrificing taste, look or smell. Most importantly for me they're recipes that are easy to follow, quick to prepare and are made with everyday ingredients so they are budget friendly.
So now…to the chocolate recipe! This recipe comes from their book Love on a Plate and it's found on page 92. I choose to make this recipe because my husband is a huge chocolate lover. But before I share it with you in full I have to tell you a little funny story about him…
He loves chocolate so much he has to have a stash of it on hand at all times. Sometimes I'll be searching for something in the drawers in his office or putting away his socks after doing laundry and what do I find? CHOCOLATE hidden away underneath! It seriously cracks me up. He's a chocolate fiend what can I say!
So I chose this Freezer Chocolate recipe in hopes of creating a healthier version knowing that he's not going to give up his chocolate but at least this version doesn't have all the chemicals and hydrogenated fats that most chocolate has. Sometimes you can't always expect a family member to give up their habits but you can create healthier versions that they can enjoy.
I was thrilled to try this out for him. It only took around 15 minutes to make and it was so easy I'll definitely be making it more often for him.
Are you drooling yet??
Since this is dark chocolate the almond marzipan complements it so well with a creamy nutty flavor, my husband really liked it.
As you can see below I made all different sizes and shapes. I rolled the marzipan into little balls dipping them into the chocolate so it's very versatile. Just have fun with it!
Delicious Freezer Chocolate with Marzipan Filling
This chocolate gets hard within 30 minutes of being in the freezer.  It can be kept in the freezer indefinitely, but needs to be eaten right away when taken out because coconut oils melts at room temperature.  Pure raw coconut oil is really good for you.  

1 cup cacao powder (sifted to remove lumps)
1/4 cup carob powder (sifted to remove lumps)
1/4 cup cashew butter
1/4 cup maple syrup
1/2 cup coconut oil (warmed to clear liquid at room temp)
1 teaspoon vanilla
Mix in bowl, pour in mold or dip things like fruit in it and put in freezer. Ready in one hour.
*My personal NOTE: If you're not a big cacao fan I'd add more carob and less cacao. 

Marzipan
1 1/2 cups almond meal   
1/4 cup maple syrup

Grind almonds into a fine power in a coffee grinder to make the almond meal. Then mix with the maple syrup and knead into dough.  You can eat immediately or use it as a filling for the chocolate that has hardened.  Stores in refrigerator for long time.  For a whiter-looking marzipan, use skinned or blanched almonds.
(Reprinted with permission of Rothkranz Publishing from LOVE ON A PLATE: The Gourmet UnCookbook by Cara Brotman and Markus Rothkranz; $29.97; www.loveonaplatebook.com.)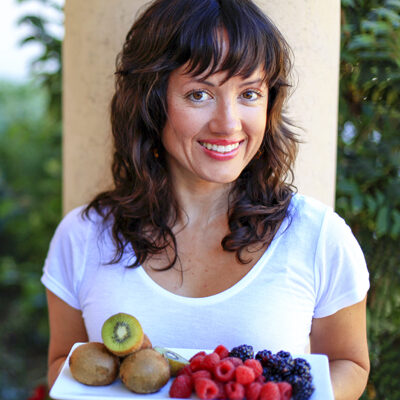 Hi, I'm Christine, thanks for stopping by! As a fibromyalgia thriver (symptom-free for over 10 years now thanks to diet and lifestyle changes), it is my passion to share the healing power of food.
As an RN and Holistic Nutrition Practitioner, it is my desire to empower you to take charge of your life.
Let's journey together to glowing health. Learn More
Your Health Transformation
Starts Here!
Sign up to get FREE healthy lifestyle tips and recipes!