Review of Ani Phyo's Raw Food Course Level 1
As many of you know, this weekend I had the privilege of attending a raw food chef course held by Ani Phyo in Santa Monica.  So I am excited to share with you my experience there!  I am such a huge fan of hers. I not only enjoy her books,  but I love how proactive she is in creating healthy communities, awareness on green living, and as an entrepreneur she is amazing! I was so excited to meet her, but when I initially went to greet her, I felt a little star struck for a minute.  But she is so genuine and down to earth that you can't help but feel comfortable around her.
She has created a series of raw food courses and this is the first of  three. There are several things that I loved about it, so here they are:
1) If you are new to raw foods it gives you an excellent base to have the confidence to prepare raw meals for friends and family. Ani breaks it down so simple and makes it practical for those on the go, busy families that don't have a lot of time to prepare (and that is most of us).  She teaches you core recipes that can be combined in so many varieties to make a filling raw food meal, or to add more raw foods the plates of those who eat a mostly cooked diet.
2) She teaches beautiful plate presentation.  This not only makes it fun to eat at home, but is great to learn if you want to present your plates at potlucks,  in the community to share your recipes or are introducing someone to raw foods it always helps when they are enticed by their eyes.
3) She incorporates her own personal tips and helpful suggestions on preparing meals/menu's, beauty, healthy living, eco-living and anything else you may have questions on.  I personally found this very beneficial.
4) One of her focuses in creating this course is to help ones looking to make a business with raw foods to grow.  So she is eager to help you out in any way she can as far as answering questions or giving her own unique advice.  Which to me was invaluable.  She is an extremely successful, intelligent, influential woman in this field, who could be a better source to get guidance from.
5) The icing on the cake is that you get to eat everything she prepares so you have a full, satisfied and happy  stomach! 🙂 Not to mention she gives you a free copy of her book Ani's Raw Food Essentials personally signed by her.
 Just an example of one of the lunches we had: Raw Vegan Zucchini Lasagna
AHH-MAA-ZING!
 A Chocolate Pudding Tart with Chocolate Sauce:
YUMM!
So if you are considering taking a raw food chef course I highly recommend you check out this course by Ani Phyo.  It is well worth it!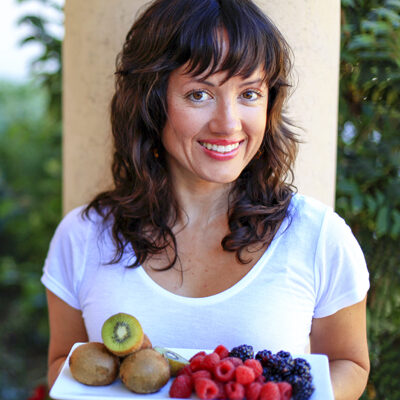 Hi, I'm Christine, thanks for stopping by! As a fibromyalgia thriver (symptom-free for over 10 years now thanks to diet and lifestyle changes), it is my passion to share the healing power of food.
As an RN and Holistic Nutrition Practitioner, it is my desire to empower you to take charge of your life.
Let's journey together to glowing health. Learn More
Your Health Transformation
Starts Here!
Sign up to get FREE healthy lifestyle tips and recipes!