Six Tips to Stay on Track For Eating Healthy
Lately I have found myself in a rut with my meals.  I seem to be eating the same thing over and over due mostly to a hectic schedule and a lack of creativity in this period.  When I do have a moment of free time I don't feel like thinking so much about planning what to eat.  As a result, I have found myself at times feeling bored with my food and either don't  eat much or I start grabbing for all the wrong things in desperation to be satisfied.  So I have been trying to tap into that inner creativity that I know has to be in there somewhere! I have never been one to use recipe books (at least on a cooked food diet) because I always just created my meals based off what sounded good to me and I never had a problem.  In transitioning into a raw food diet however, I have found the need to get acquainted with  recipe books or internet based recipes to help me broaden my  horizons and get the creative juices flowing. So, I just wanted to share six tips that have helped me to really enjoy my food and enjoy a variety of dishes and will hopefully help you. (Where I use raw food examples, apply it to what suits you whether vegan, gluten-free, healthy recipes, etc.)
1) Get acquainted with raw food websites or raw chef's or recipe books.  Look over their recipes, get a feel for the ingredients and combinations of ingredients used. If you don't like a particular ingredient try to think of something  similar that you like that can be substituted.  For example, if a recipe calls for Brazil nuts and you prefer walnuts, substitute walnuts or, if it calls for avocado and you don't like avocados try to think of another food that may have a similar consistency, etc.
2) Look at pictures of the presentation of the food to help give you an idea.  I know for myself looking at pictures of the food prepared always helps me get a little more creative.  Then, try to adapt the recipe to your liking and taste.
3) Experiment in the kitchen, try using a variety of fruits and vegetables then mix and taste different flavors to get a feel for which foods create what flavors or consistency.  For example, if a recipe is supposed to be creamy you can use soaked cashews which gives the food a nice creamy texture.  However, if you blend dry cashews it gives it another type of consistency, that of flour.
4) Each week pick a few new recipes that you want to try to make a list of all the ingredients you will need and make them.  If they don't come out to your liking the first time, as you are eating try to really imagine what other flavors or textures are missing or that would really add to it.  Then, go for it again adding or subtracting the necessary ingredients, until you have perfected it.
5) If you find yourself often grabbing for junk food or something sweet, start making little sweets of your own.  What do you normally crave? Having a healthy substitute on hand will inevitably help you avoid grabbing the junky stuff.  For example, if you crave chocolate try raw carob powder in a shake with bananas and nut milk it's like a chocolate shake.  Do you crave candy? Try having delicious, candy-like dates on hand.  One of my favorites and easiest desserts to make are truffles.  They literally take five minutes to make and are so delicious and satisfying when you have a sweet tooth.  Click here to see my favorite coconut-cashew balls recipe and here for my cherry-walnut-orange-truffles.  They can easily be stored in a ziplock bag and be given to kids in their lunch bag or for yourself as a snack at work.
6) Last but not least, keep your meals simple.  I have found myself a little burnt out at times if I am always trying to make decadent meals.  Don't get me wrong, I love decadent meals at  times, but if I am just coming home from a long days work I would prefer a simple, tasty but healthy meal.  I try to keep my recipes to five ingredients or less.  Not only is it better for digestion, it keeps things simple but enjoyable.  Remember, eating healthy should be a lifestyle not a quick fad diet.  That means you are in it for the long run, so keep it practical…and maybe save the more decadent meals for the weekend or when you have guests over.
These tips obviously can be used for any type of healthy recipes not just for raw foods.  The idea is to start making dietary changes toward a healthier lifestyle, for me that means eating a lot of raw foods, for you that can mean vegetarian or gluten-free.  Whatever it may be, just keep moving forward as you transition into healthy eating habits.  Day by day you will see the wonderful effects of feeling better and having more energy.
Do you have any tips that help you? Please share in the comment section!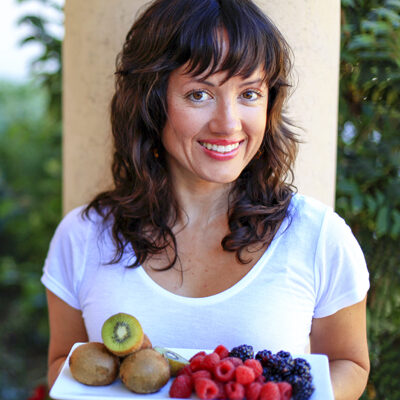 Hi, I'm Christine, thanks for stopping by! As a fibromyalgia thriver (symptom-free for over 10 years now thanks to diet and lifestyle changes), it is my passion to share the healing power of food.
As an RN and Holistic Nutrition Practitioner, it is my desire to empower you to take charge of your life.
Let's journey together to glowing health. Learn More
Your Health Transformation
Starts Here!
Sign up to get FREE healthy lifestyle tips and recipes!