The Raw Food Lifestyle + My Trip to Central Oregon
The raw food diet is so much more than a diet, it is a lifestyle.  It encompasses a healthy way of living, thinking, emotions, and even a loving view of the planet and nature  all around.  Being around so much beauty, having a chance to take a step back slow my pace down, deep breathe in the sweet pine air and taking moments to just be appreciative of everything really made the difference.  Not to mention spending quality time with the ones you love.
I am back home after a wonderful week in central Oregon.  It was a vacation well overdue and boy did it feel good to be away!  For just being gone one week I have to say we came back feeling well rested, uplifted in spirits, and just plain 'ol satisfied and relaxed.  Coming from a congested city like Los Angeles, Central Oregon for me was a treat. It is just beautiful and full of marvelous, breathtaking creations all around.  Life seemed so much slower, and kinder, I found myself naturally releasing muscle tension that  I normally seem to hold on to.
Starting from the left photo 1) Devil's Lake, 2) Todd Lake, 3) Todd Lake, 4) Chimney Rock
Living in such a fast paced world, I am really working on mindfulness.  That is, appreciating the moment emotionally and mentally instead of always thinking of the next task to be done, or the next possible stress that may come my way.  Being away from it all in a nature's paradise like this really helped me to focus on the art of that.
Taking moments to close your eyes observe attentively the sounds of the birds chirping, the whisper of a breeze gently blowing or the water flowing down the river can have tremendous benefits.  Releasing the mind of stress, worries, negative thoughts for the moment deep breathing in fresh mountain air and exhaling away the tension, these are all aspects of health.
Smith Rock
Just because I go on vacation does not mean I leave behind my good eating habits.  These are just a few of the smoothies I was making for myself and my mom.  She is a big smoothie fan.  Thankfully she even had a Vitamix so that made things a lot easier for me! 🙂
I would sit on the balcony in the morning with my smoothie or smoothie bowl and just enjoy the view and soak up some vitamin D.
I even managed to go into the nearby town called Bend, which quickly became one of my favorite cities, and found a quaint little raw vegan cafe' called Sarah's Raw and Vegan Cafe'.  It was so cute, they sell all sorts of smoothies, soups and snacks.  They serve them  in a mason jar, that you can either drink there or take home and bring back later so that they can be recycled and reused.  How great is that!
These were the highlights of my trip that I wanted to share with you hope you enjoyed it, and when you get a chance I highly recommend you take a trip to Central Oregon!
Hugs!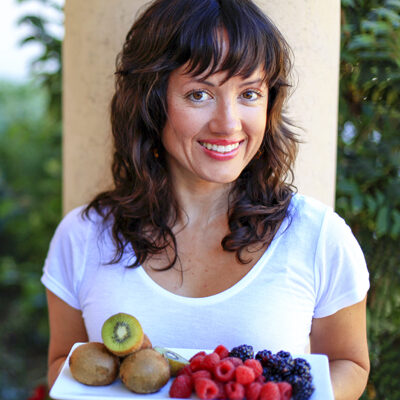 Hi, I'm Christine, thanks for stopping by! As a fibromyalgia thriver (symptom-free for over 10 years now thanks to diet and lifestyle changes), it is my passion to share the healing power of food.
As an RN and Holistic Nutrition Practitioner, it is my desire to empower you to take charge of your life.
Let's journey together to glowing health. Learn More
Your Health Transformation
Starts Here!
Sign up to get FREE healthy lifestyle tips and recipes!