Beginners Sweet Green Juice
This gorgeous vibrant  juice is energizing and perfect for those new to green juice.  I have noticed that many are intimidated by green juice thinking it will literally taste like grass.  But I assure you that this juice is delicious, refreshingly sweet and will make your soul shine!  As you start drinking more fresh juice, and eating a clean, plant-based diet you will notice that your taste-buds change and you will actually crave less sweet and more greens.
This juice is filled with so many amazing health benefits that will have you glowing with health!
Health Benefits of Pineapple:
– Pineapple contains the  proteolytic enzyme bromelain which  helps with the digestion of protein.  Bromelain is a natural anti-inflammatory, which can help with conditions such as arthritis, inflammation and pain.  It is an excellent source of the antioxidant vitamin, vitamin C. Vitamin C helps the skin repair itself.  It also helps prevent wrinkles and dry skin, protecting from free-radicals.
– Kale is a nutritional powerhouse and is one of the healthiest vegetables you could eat. Per calorie, kale has more calcium than milk! Kale is high in iron.  Per calorie, kale has more iron than beef.  The fiber and sulfur in kale aid with digestion and liver health.  The fiber also lowers cholesterol.  Kale's vitamin A content helps with vision and keeping the eyes healthy.
– Parsley juice has an enormous number of health benefits.  It has a level of chlorophyll which oxidizes the blood.  It helps tonify the blood.  Parsley juice aids in dispelling mucus.  It serves as a diuretic.  It can also be helpful for those with gallstones or kidney stones, helping them to pass the stones. Parsley is rich in B12, vitamin C, vitamin K, vitamin A and folic acid.
I like to start my day off with a juice like this.  With all those health benefits you can imagine how great you will feel drinking fresh green juices regularly.
Makes 32 ounces
Recipe:
1 pineapple cut up into medium size chunks, crown and base chopped off & skin peeled
4 Kale leaves
3/4 cup parsley
Process all ingredients in a juicer, and enjoy!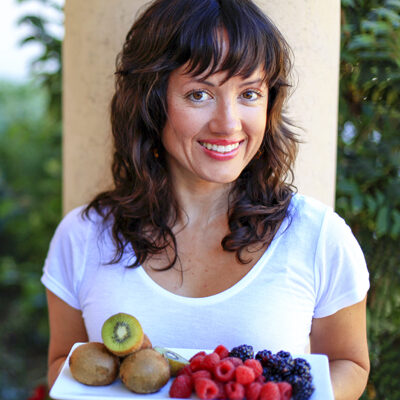 Hi, I'm Christine, thanks for stopping by! As a fibromyalgia thriver (symptom-free for over 10 years now thanks to diet and lifestyle changes), it is my passion to share the healing power of food.
As an RN and Holistic Nutrition Practitioner, it is my desire to empower you to take charge of your life.
Let's journey together to glowing health. Learn More
Your Health Transformation
Starts Here!
Sign up to get FREE healthy lifestyle tips and recipes!