Cherry Chocolate Almond Butter Bites (Post by HP)
We've hit the 10 day mark of the raw vegan challenge! So I thought I'd share with you a simple easy, delicious snack recipe to keep you going during the day when you need a lil pick-me-up. It's so important to be prepared for the day. And these Cherry Chocolate Almond Butter Bites are perfect!
I usually prepare a few dessert items ahead of the challenge. But we were house sitting for my in-laws and their cute puppy. I didn't want to make many things and have to haul them home. I started out a little discombobulated.
Once we got settled in around the 5th day I realized I had no sweet treats and I decided to whip up something from the pantry items I had stashed in the house. Having  almond butter, cherries, cacao, coconut and dates as my staples I thought 'you can't go wrong with these ingredients' and so I created these delicious Cherry Chocolate Almond Butter bites this week.
The first day I made them I couldn't stop eating them. Chocolate and Cherries have such a great affinity for each other, right? And almond butter just makes everything better!
I shared a couple with my husband the next night with my husband. He said he thought they were good. But sometimes I'm not sure if he means it. Well the other day I found him eating a few he got for himself. So that made it official… he really likes them.
Friends stopped by the other day and I shared them. They loved them so much they asked for the recipe. So I guess this is a keeper!
 These Cherry Chocolate Almond Butter bites are chewy, sweet and so satisfying when you're craving something sweet. They're gluten-free, protein packed and make a great on the go snack. You can even eat them for breakfast. They're perfect for those mornings when you don't have much time, even to make a smoothie. Just grab several of these bites to go.
Servings 25 Tablespoon size bites
1 cup shredded coconut
1/2 cup dried tart cherries
1 cup medjool dates, pitted
1/3 cup raw almond butter
1/4 cup cacao powder
1/4 cup cacao nibs
1/4 cup ground flaxseed
 Put all the ingredients in the food processor. Blend until everything is completely combined. Put the contents on a sheet of wax paper. Roll into small bites.
I refrigerated mine. They'll keep about a month in the fridge. In the freezer they'll last much longer.
 Well you best go and make a batch. Check back and tell me what you think!
HP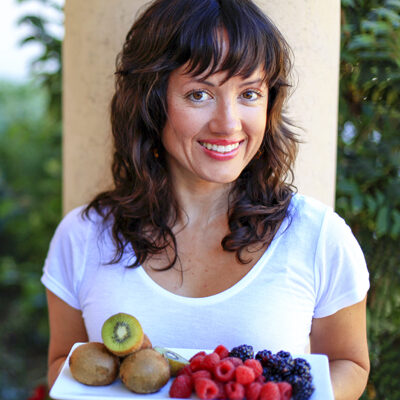 Hi, I'm Christine, thanks for stopping by! As a fibromyalgia thriver (symptom-free for over 10 years now thanks to diet and lifestyle changes), it is my passion to share the healing power of food.
As an RN and Holistic Nutrition Practitioner, it is my desire to empower you to take charge of your life.
Let's journey together to glowing health. Learn More
Your Health Transformation
Starts Here!
Sign up to get FREE healthy lifestyle tips and recipes!