CariPro Ultrasonic Toothbrush Review + Giveaway
Do you use an electric toothbrush? I asked this question on Instagram the other day and WOW did I get the conversation ball rolling! Who knew so many people had an opinion on electric toothbrushes.
Recently I was sent the new CariPro Ultrasonic Electric Toothbrush by Smile Brilliant. I was so excited to try it cause I've used an electric toothbrush for years.
My current toothbrush up until receiving the new CariPro Ultrasonic was a well known electric toothbrush brand. And up til now I thought it was doing just fine keeping my teeth squeaky clean. But, I had no idea what I'd been missing out on until I started using the CariPro.
The CariPro took my oral health care to a whole new level, I mean seriously with FIVE different brush modes my mouth feels so fresh and so clean it feels like I just got up out of the dentist chair every morning! I love that smooth, clean feeling. That alone just makes me want to SMILE!
What I really like about my new CariPro Ultrasonic is that it brushes firm enough to make your teeth feel squeaky clean but gentle enough that it's enjoyable and not painful. My last electric toothbrush was starting to irritate my gums from brushing so firmly to the point I had stopped using it temporarily.
Did you know using an electric toothbrush has incredible health benefits for your teeth and gums? I never really thought much about it but the CariPro Ultrasonic guarantees the following results:
-Removes up to 7x more plaque than a manual toothbrush
-Improves gum health in 2 weeks
-2x whiter teeth in just a single week
If you're looking to take your oral hygiene to the next level you definitely want to try this toothbrush. And what do you have to lose it's backed by a TWO YEAR full warrantee and guarantees results 100% or you can return your toothbrush.
Here's a couple extra benefits and cool features about this electric toothbrush:
-Comfortable to hold. Simple to use, and waterproof in case you're who  likes to brush your teeth in the shower.
-On full charge the battery will last for 30 days.
….And I'm going to add I absolutely love the design of the toothbrush it just looks super cool!
The beauty of this toothbrush is you can brush like a pro with all the same features of all the high quality electric toothbrushes on the market at a much more affordable cost.
Make your friend, family or loved one SMILE with this impressive gift, or simply treat yourself to some self care love. After all a beautiful smile starts with a HEALTHY mouth and you deserve it!
I'm excited to announce that I've partnered up with Smile Brilliant to give away one CariPro electric toothbrush (valued at $119)! Click HERE to enter.
Or you can use the code to justglowingwithhealth get 20% off your CariPro Ultrasonic Toothbrush TODAY!
Make sure to enter the giveaway and if you just can't wait then make sure to take advantage of my 20% discount code!
EVERYTHING YOU NEED TO KNOW HERE: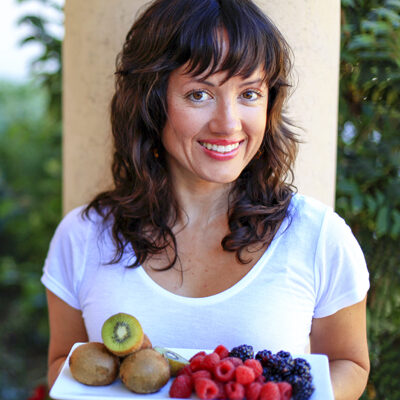 Hi, I'm Christine, thanks for stopping by! As a fibromyalgia thriver (symptom-free for over 10 years now thanks to diet and lifestyle changes), it is my passion to share the healing power of food.
As an RN and Holistic Nutrition Practitioner, it is my desire to empower you to take charge of your life.
Let's journey together to glowing health. Learn More
Your Health Transformation
Starts Here!
Sign up to get FREE healthy lifestyle tips and recipes!