Guest Post: Hydroponics: The Answer to Small Urban Spaces
About the Author: Chris is an urban hydroponic hobbyist who uses hydroponics to maximize his 400 square foot yard and extend the short Chicago growing season. Chris blogs about his hydroponic experiences at HealthSmartLiving.com.
Using hydroponics herbs, berries, greens and other produce can be grown in just a few square feet of space.  In a densely populated city like Chicago, I've learned to maximize my postage size stamp of a backyard in the summer and my 3rd bathtub in the winter.  Both can be done with either off the shelf products or you can take the DIY route like I often do.
Benefits of hydroponics
I've seen people make up huge lists of benefits but I'll just give you the one's that really matter in a space garden setting:
Shorter growing cycles which let you get more produce per year
Improved yield through better plant nutrition
More food independence and less paying for out of season herbs
Greater planting density
The reason you are can grow more food, faster, and in less space is due to the direct exposure of nutrients to the roots.  Traditionally, garden plants have to seek out their nutrients in the soil.  Believe it or not this actually takes a lot of effort and energy.  Imagine if a plant used this energy to grow faster and bigger?  That is the advantage of hydroponics.
Standard parts of a hydroponic system
Gardeners have developed several unique hydroponic designs but most have a few key common components.
Growing Tray: Plants grow in a tray that is filled with a soil substitute called a media. The most common media are coconut fiber, rockwool, and clay pellets.  A good media provides root stability and allows them to receive a mix of oxygen and water.
Reservoir: A tank for the nutrient solution water which is pumped onto the roots of the plants.
Pump: Pushes the water from the reservoir to the grow tray
Timer: The real convenience of hydroponics.  A timer can help automate manual tasks such as watering or light activation.
Great crops for hydroponics in small spaces
Most traditional crops can be grown hydroponically but certain plants do better and are simply more practical in urban settings.  As a general rule, stay with small compact plants that you harvest above the ground as root veggies require a bit more space.
Recommend urban crops:
Lettuce
Tomatoes
Herbs (Basil, oregano, Thyme, etc)
Peppers
Spinach
Start a Micro Herb Garden
If you would like to try your hand at hydroponics on a small scale, I would suggest making this DIY hydroponic system.  I've grown lettuce, spinach, spinach, and a few other leafy greens this way outside in the winter.  And once the Chicago winter hits, I can move this indoors. If you are going to grow inside and need supplemental lighting, you can make the homemade grow light that costs $10 at Home Depot.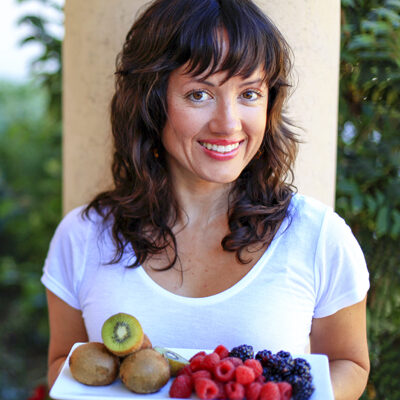 Hi, I'm Christine, thanks for stopping by! As a fibromyalgia thriver (symptom-free for over 10 years now thanks to diet and lifestyle changes), it is my passion to share the healing power of food.
As an RN and Holistic Nutrition Practitioner, it is my desire to empower you to take charge of your life.
Let's journey together to glowing health. Learn More
Your Health Transformation
Starts Here!
Sign up to get FREE healthy lifestyle tips and recipes!