Creamy Mango Cucumber Avocado Smoothie
Green smoothies are such a great way to pack in greens that you may not normally eat much of.  If you're new to green smoothies and are apprehensive of putting greens in your drink, this is a good smoothie to start with. It's sweet, refreshing without the strong "green flavor". It packs a mean nutritional punch so you're enjoying a sweet succulent drink and nourishing your body with powerful nutrients at the same time.
This smoothie is also banana free. It's inconceivable to me but there are some who actually do not like bananas, lol. So in that case avocado makes for a great replacement for that creamy texture bananas have.
Cucumbers are made up of mostly water so they're a great hydrating food, similar to watermelon. They're also a rich source of vitamins and minerals like vitamin K, B, C, copper, potassium and manganese. They're a wonderful brain food playing a role in brain health and helping to improve memory. If you're a fibro-fighter like me cucumbers are an excellent fibro-fighter food for that fibro-fog that accompanies fibromyalgia. They're also an anti-inflammatory food helping to fight inflammation in the body, which can ultimately help reduce pain and swelling. So make sure to include cucumbers into your diet.
Drinking a large smoothie packed with nutrients and fiber keeps you satisfied for hours, so you won't find yourself craving junk or looking to snack all the time.  I love this recipe because the cucumber and celery add a balancing refreshing element to sweetness of the mango. Cucumber and celery bring a pleasant  balance to the taste buds.
A great way to start transitioning into the raw food diet is by having a fruit meal or smoothie for breakfast.  So here's one smoothie recipe to get you started!
Servings 4 cups
Recipe:
2 cups frozen mango
1 Persian cucumber
1 celery stalk (chopped in pieces)
1/2 avocado
1 1/2 cups fresh coconut water
1 cup spinach
Place all ingredients in a blender and blend until creamy and smooth.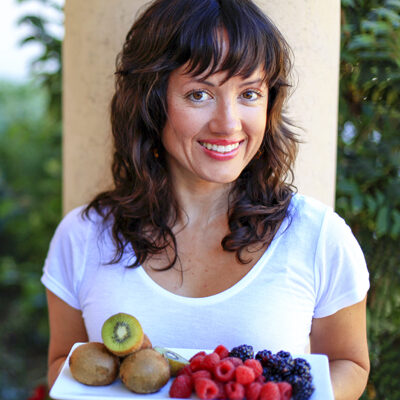 Hi, I'm Christine, thanks for stopping by! As a fibromyalgia thriver (symptom-free for over 10 years now thanks to diet and lifestyle changes), it is my passion to share the healing power of food.
As an RN and Holistic Nutrition Practitioner, it is my desire to empower you to take charge of your life.
Let's journey together to glowing health. Learn More
Your Health Transformation
Starts Here!
Sign up to get FREE healthy lifestyle tips and recipes!